There are different options when you think about renting a bus for transportation. A school bus rental will help you transport a large number of kids or teenagers for long trips. School buses are generally used to transport students to school or to field trips. These are big comfortable buses that are very safe and stable on the road.
School buses are also good for corporate events, road trips and a lot of other occasions. They are flexible and convenient. You can easily choose the most affordable option to transport a big group. By picking our services, you are hiring the best school bus rental that can provide you with what you need. We have different buses that can transport a lot of different group sizes. All you have to do is to contact us and we will do what it takes to make sure that you have the best experience.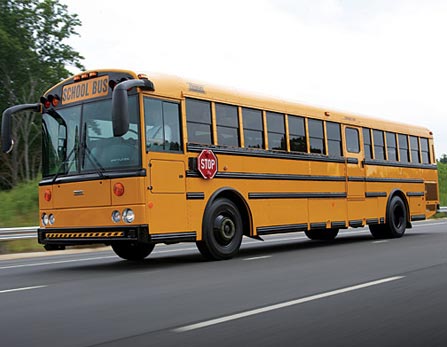 ---
Get a Free Quote for Service
---
How to Choose the Best School Bus Rental?
In order to choose the best school bus rental, you should plan your event in advance. There are different categories when it comes to the number of people, destinations, and facilities available. This way you can guarantee that you are picking the most suitable option.
Our bus rental company hires professional drivers who hold a commercial driver's license. This requires more experience, training, and education than a regular citizen's license. This way you can be sure that you are hiring an experienced driver who can handle any situation on the road. If you need a bus rental for a team, we can assist.
Our company will provide proof that we are using new or regularly maintained buses. You should make sure that the bus you are using has been checked and inspected at least once during the past year. This will guarantee that the bus will be safe and will not accidentally break down. You don't want a bad or old bus to disturb your travels by breaking down on the way.
We Can Cater for the Needs of Any Number of People:
There are different options when it comes to the number of people who are going to be on the bus. You should make sure that you are renting a bus that will provide enough space and leg room for everyone onboard.
Tulsa School Bus Rental Prices:
There is no room for surprises. You can discuss the overall price with us before renting a bus. Everything should be discussed in details before signing any contract. You can rent a bus that suits your budget. Alternativly, you can hire a Tulsa charter bus with more amenities.
Enjoy the Extras:
We can guarantee that you will have a fun trip. Our school buses are equipped with some amazing facilities like Wi-Fi, air conditioning, comfortable seats, clean restrooms, TVs and DVD players. We can guarantee that whether you are hiring our buses for long or short trips, you are going to have the best time of your life.
You should do your research before hiring the best school bus rental. Your peace of mind and safety of others depend on it. Enjoy the ride.
Posted on